1960

Established

1984

Started the field personnel system for sales operations

1987

Started the TAC (Target Authority Customer) product development system

2001

Listed on the Tokyo Stock Exchange First Section

2004

Established Milbon USA in New York, the first overseas subsidiary

2010

Launched the Aujua brand for premium products

2016

Launched the milbon brand for premium products
Sales Composition (%)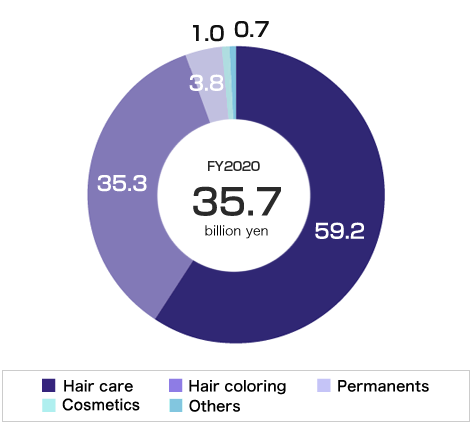 Sales in Japan and Overseas (%)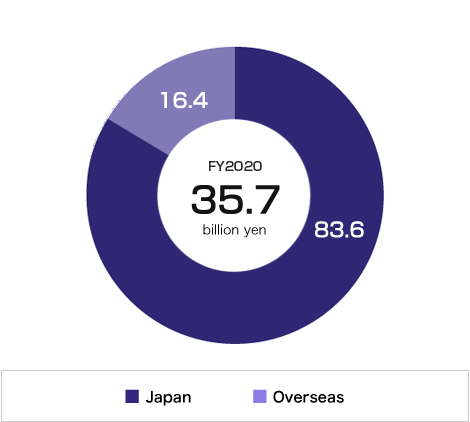 Product Details
A Commitment to Sustainable Growth
Milbon's sales have increased every year since the company became publicly owned. Consistent sales growth has made it possible to make substantial investments for building a sound foundation for more growth in the years ahead.
1996
IPO-Now (1996 to 2018 – 23 years)
2018
Net sales
7,000 million yen
Growth rate


5.0 times

Average annual growth rate


107.6%

35,185 million yen

Operating income
750 million yen
Growth rate


7.1 times

Average annual growth rate


110.1%

6,260 million yen

Operating margin
10.7%

+7.1 point

17.8%
Business Results after Listing (1996)
MILBON's Network Expansion
A Distinctive Business Model Structured for Rapid Growth
A unique business model is at the heart of our ability to maintain strong growth. We base operations on field work centered on extending support that reflects the requirements of customers and salons. We use this system as the foundation for working with prominent hair stylists to develop innovative products that are at the forefront of our markets.
Distinctive Business Model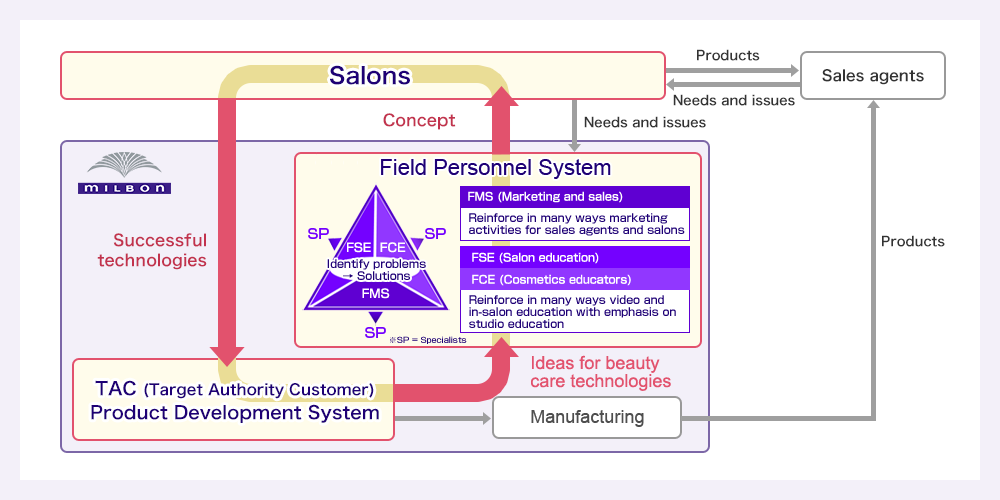 TAC Product Development System in detail

The TAC Product Development System

A framework for creating beauty care techniques and products by learning from successful hair care advisers and the end users these advisers serve

The TAC Product Development System is the basis for the process Milbon uses to create new beauty care techniques and products. To implement this system, we first locate hair stylists who have outstanding techniques or other ideas in a particular sector of the hair care field. We call these people Target Authority Customers. These individuals share their knowledge with us for scientific analysis in order to develop innovative products. Only products that meet the high expectations of these TACs receive our final approval. Our Central Research Institute plays an instrumental role in this process. By pursuing the convergence of sensitivity and science, specialists at this institute use the knowledge of TACs while performing the basic research needed to transform this know-how into products.
Field Personnel System in detail

The Field Personnel System

A fieldwork system focused on salons that is the nucleus of our operations

Salons purchase Milbon products from sales agents. But salons receive information about beauty care techniques and other valuable know-how directly from our team of field personnel. Selling Milbon products to salons is not the objective of field personnel. Instead, these individuals focus their energy on determining the best ways to help salons be successful.
Every salon has its own problems and goals. Our field personnel work closely with salon owners to extend a variety of support. These people hold seminars to improve the sales skills of stylists and participate in staff meetings at salons. Field personnel also create proposals for a salon's annual schedule and marketing activities. Salon operators can even use field personnel for help with formulating business plans.