Milbon's strategic objective is to become the leader in targeted market sectors by focusing resources on key business domains. We want to establish an overwhelming competitive edge in these markets in terms of information, sales and service networks, products, after-sales support, and all other associated activities. This strategy is the reason that we now have a solid position in the market for salon hair care products.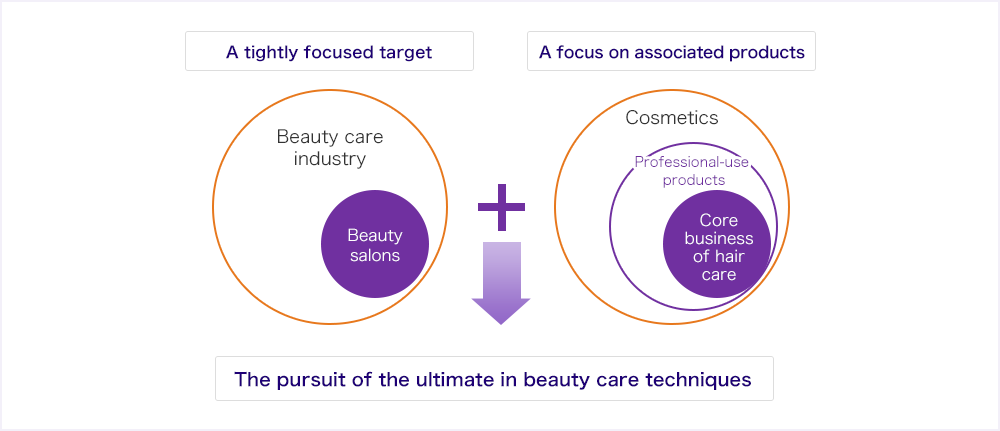 Medium Term Management Plan
(2015 - 2019)
Become the market leader in Asia and one of the top five worldwide in the market for professional hair care products
Milbon has a policy of establishing five-year business plans to determine the group's strategic direction. In the current plan, the primary goals are reinforcing our presence in Japan, a mature market, and increasing measures to capitalize on opportunities in growing markets in other countries. Achieving more growth in all business operations is the ultimate objective. We already have a strong position in Japan's market for salon hair care products. Overseas, market surveys and business activities that started more than a decade ago are beginning to produce benefits. Subsidiaries in the China and Korea have become profitable. This makes it possible for these companies to conduct self-reliant activities for more growth in the enormous beauty care markets of China and Korea. We have considerable room for growth. In Japan, our market share is still only about 15%. In other countries, we are just now starting full-scale operations. We are constantly innovating from within as we look ahead 10 and even 20 years. We are determined to create an organization that can compete successfully in the salon products market on a global scale.
Targeting Opportunities in the Global Professional Hair Care Product Market (About ¥1 trillion)
Shifting emphasis to B to B to C marketing

In 2015, the Milbon Group started a major shift in marketing activities, the foundation for all business operations, from B-to-B to B-to-B-to-C. Product development and other operations in the past were structured around a B-to-B perspective, chiefly the views of professional hair stylists. But this market is changing dramatically in Japan. The size of beauty salon user age segments is declining due to Japan's decreasing and aging population. At the same time, beauty care needs are diversifying as women become more interested in ways to look their best. We reached the conclusion that we will not be able to accurately identify future market changes and capitalize on opportunities by using only our current relationships with the beauty care industry. Success will also require adopting the viewpoint of customers. This is why we decided to expand how we view and serve our markets by shifting to B to B to C marketing.

The Milbon branding strategy

We are implementing a branding strategy called "corporate branding innovation" as an integral part of measures aimed at effective B to B to C marketing. The central objective is establishing and improving the value of the Milbon corporate brand and our numerous product brands our markets. First, this entails more firmly linking the Milbon brand with the qualities of reliability and confidence by making more people aware of this brand. Next, we want to leverage Milbon brand value to support our sales activities at salons for Milbon Group products and services.

Make the field personnel system even more powerful

The field personnel system is a critical component of the Milbon business model. Year after year, this system becomes more effective at setting us apart from our competitors. Our team of field personnel has the specialized know-how to assist salons with everything from training hair stylists to how operations are managed. No other company in our industry has this capability. To make our field personnel system even stronger, we are upgrading training programs to give them the skills for supplying support that precisely matches the requirements of each salon. Furthermore, our overseas operations have clearly demonstrated that the field personnel system is equally effective in other countries. This is why we are now moving even faster to expand our team of field personnel outside Japan.

Concentrating on basic research

To perform R&D activities effectively, we establish separate themes for each product and brand. We are also reinforcing basic research operations in order to lay the groundwork for creating revolutionary products in the coming years. We created the Basic Research Group in 2016. This unit is enhancing our basic research capabilities through activities that include collaboration with universities and other external organizations. We expect this research to yield many academic discoveries for products that can create new markets by using advanced technologies and a precise focus on specific needs.
FY 2019 Target
| | FY2014 | FY2019 | Increase / Decrease | Growth rate |
| --- | --- | --- | --- | --- |
| Consolidated net sales | 25.2 billion yen | 35.0 billion yen | 9.7 billion yen | 138.7% |
|    Domestic sales | 22.6 billion yen | 28.5 billion yen | 5.8 billion yen | 126.0% |
|    Overseas sales | 2.6 billion yen | 6.5 billion yen | 3.8 billion yen | 248.7% |
|    Overseas sales ratio | 10.4% | 18.6% | - | 8.2pt. |
| Consolidated operating income | 4.4 billion yen | 6.0 billion yen | 1.5 billion yen | 134.8% |