Milbon's strategic objective is to become the leader in targeted market sectors by focusing resources on key business domains. We want to establish an overwhelming competitive edge in these markets in terms of information, sales and service networks, products, after-sales support, and all other associated activities. This strategy is the reason that we now have a solid position in the market for salon hair care products.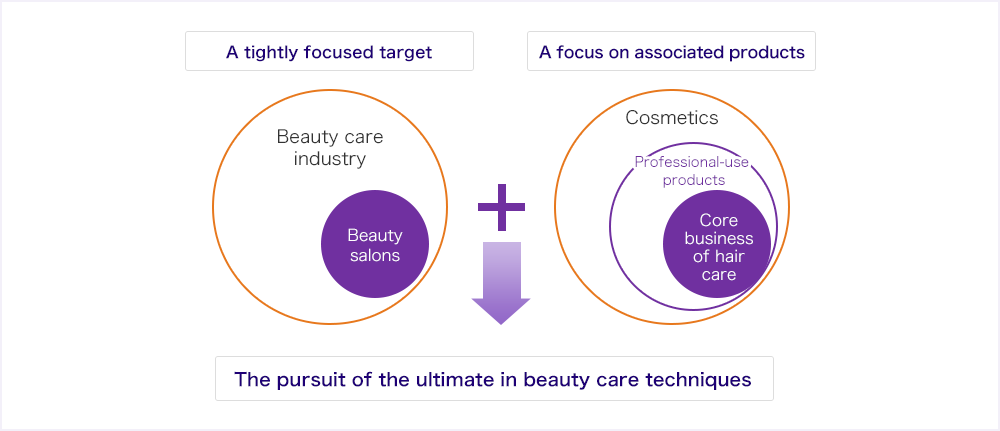 The previous medium-term management plan, which covered the period from 2015 to 2019, was centered on the theme of building an infrastructure that makes the Milbon Group a global manufacturer able to compete in worldwide markets for professional hair care products. The goal was to become the leading company in Asia in this market and one of the top five in the world. The Milbon Group made significant progress toward this goal during the plan. Major accomplishments included the integration and expansion of the core Yumegaoka Factory, expansion of the Central Research Laboratory, the addition of business sites in Ginza and other locations in Japan, and the establishment of bases in the Philippines, Germany and other countries. There were also activities to strengthen sales of Milbon products at stores, mainly by using extensive corporate branding and product branding activities. Due to these measures, premium brands made a big contribution to sales and earnings. As a result, the Milbon Group achieved the financial targets of the previous plan one year before the completion of this plan.

Having accomplished the prior plan's goals, the Milbon Group established a new medium-term management plan that started in 2019 and will end in 2023. The new plan is centered on initiatives to advance to the next phase of growth. The objective is sustained growth that reflects the dramatic changes taking place in the group's markets worldwide, including Japan. These initiatives will be focused on the transformation of all stages of the Milton Group ("Change the Stage!").
FY 2023 Target
| | FY2018 | FY2023 | Increase / Decrease | Growth rate |
| --- | --- | --- | --- | --- |
| Consolidated net sales | 33.8 billion yen | 48.5 billion yen | 14.7 billion yen | 143.1% |
|    Domestic sales | 28.5 billion yen | 40.0 billion yen | 11.5 billion yen | 140.0% |
|    Overseas sales | 5.3 billion yen | 8.5 billion yen | 3.2 billion yen | 160.0% |
| Consolidated operating income | 6.2 billion yen | 8.8 billion yen | 2.6 billion yen | 140.6% |