Medium Term Management Plan
[2015 to 2019]
Become Japan's first global supplier of salon products
Build an infrastructure as a global manufacturer that can compete successfully in the market for salon products. Become the market leader in Asia and one of the top five worldwide.

To advance to the next stage of growth, Milbon created a medium-term plan covering the five-year period from 2015 to 2019. All group companies are currently focusing their resources on achieving the goals of this plan. The central goal is to establish a sound foundation for growth by building on strengths that we have created since our inception. B to B to C marketing is a major theme. We plan to launch global brands and expand overseas production and sales activities while upgrading the product development skills needed to back up these initiatives. By taking these actions, we are determined to continue to grow along with all our stakeholders.
Additional information
Japan's beauty salon market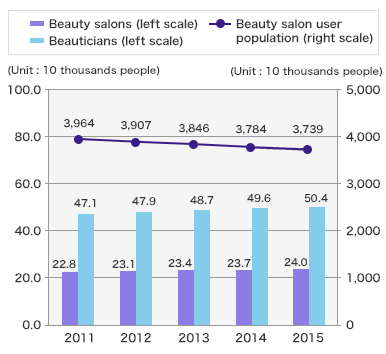 Hygiene Government Report (beauty salons and beauticians/year-end), Ministry of Health, Labour and Welfare; Statistics Bureau, Ministry of Internal Affairs and Communications (Age 15-64 female population/October 1)
The number of people who use beauty salons in Japan is declining as the population ages and the number of children decreases. During the past several years, statistics show only a small increase in the numbers of beauty salons and beauticians. However, there has probably been almost no change in the actual number of salons and beauticians.